In the early 2000's The Buccini/Pollin Group (BPG) opened it's doors on the Wilmington Riverfront with just 10 employees and a shared vision of a revitalized Christina River shoreline and central business district in downtown Wilmington Delaware. After more than twenty-five + years in operation BPG has grown to employ over 100+ associates operating 3 hotels, managing  residential properties along the Riverfront, lining the Market St. Corridor and nestled within the central business district. As part of this evolution, September 2019, marked a significant milestone for the company as we said goodbye to 322 A Street and hello to a sparkling new headquarters in the historic Brandywine Building in downtown Wilmington.
This move was a long time coming and we are thrilled to be sharing an inside look at our current home. Because it is important to us to live the reflect the efforts underway in the City of Wilmington and to inspire future tenants and residents, we decided it was time to showcase modern office space in the CBD, an area that is experiencing a rebirth of restaurants, entertainment, hotels and residential.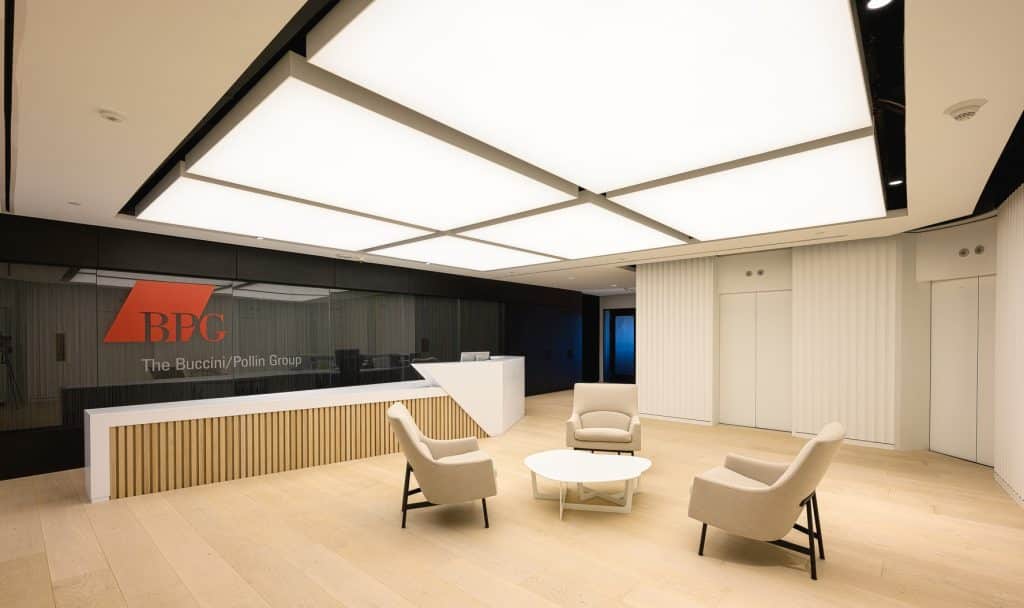 The space was designed by Gensler, a global design and architecture firm who we have partnered with for many projects including our current Lower Hill Development project in Pittsburgh, as well as past projects such as 500 Delaware Avenue. The construction was completed by none other than our sister company, BPGS Construction. Senior Project Manager Steve Weathers, Superintendent Chris Terzaghi, Project Coordinator Michele Garcia, and their team helped bring Gensler's vision to life.
Our new home welcomes 110 associates in a modern work environment that reflects both our brand and position as a leading office landlord.  It was really interesting to discover how the design could play off the sweeping curves of the Brandywine Building, a unique feature that we discovered actually lends better to modern open work space than the old-fashioned window-line office layouts. The two-story space is complete with a modern aesthetic with a hospitality comfort aspect while accented by Scandinavian flare. Details include natural wood legs, bent wood, and woven fabric.
To establish a successful design plan Gensler created a design charette. "We wanted to create a space where associates could effectively work collaboratively or solo.  It was important from a design perspective to acknowledge any feedback from our associates to see which areas needed improvement for this new space," says Vice President of Design and Marketing Sarah Lamb. The survey allowed BPG associates to be involved in the design process and helped to pick out what they wanted to see in the new space, as well as what would help improve the work atmosphere. From the results of the survey, Gensler was able to create examples to present to associates, and from there all associates were able to have a say in what they preferred from what was presented.
The finished product includes 7 conference rooms, 6 Huddle Rooms, 4 Focus Rooms, 2 pantries, 2 redesigned restrooms, a reception area, a lounge with booth seating, and many more amenities. Huddle rooms are used for small gatherings, or last minute meetings with fellow associates, while focus rooms are used for personal and conference calls, and provides an individualized work space.
We are excited to be settled into our new space and look forward to the years to come here in the Brandywine Building. To learn more about our organization, follow our blog for all of the latest news.