161,000-SQUARE-FOOT FACILITY DEVELOPED BY THE BUCCINI/POLLIN GROUP AND MANAGED BY BPG|SPORTS WILL HOUSE THE 76ERS' G LEAGUE AFFILIATE, THE DELAWARE BLUE COATS
76ERS FIELDHOUSE TO BENEFIT THOUSANDS OF UNDERSERVED YOUTH EACH YEAR THROUGH PROGRAMS LEVERAGING THE POWERFUL PLATFORM OF SPORTS

WILMINGTON, DEL. – August 8, 2018 – A groundbreaking celebrating the construction that has begun on the 161,000 multi-purpose sports complex and youth training facility to be called "76ers Fieldhouse, Elite Youth Training Center" occurred on August 8th 2018 at 4 PM at 401 Garasches Lane Wilmington, DE.
Individuals in attendance included Governor John Carney, Mayor Michael S. Purzycki, Megan McGlinchey, Executive Director of Riverfront Wilmington Development Corporation, City Council President Hanifa Shabazz, Chris Heck, 76ers President of Business Operations, Malcom Turner, President of NBA G League, Larry Meli, President of Delaware Blue Coats, Elton Brand, General Manager of Delaware Blue Coats, Robert Buccini, Co-President of The Buccini/Pollin Group and Michael Hare, Executive Vice-President of the Buccini/Pollin Group.
76ers President of Business Operations, Chris Heck is thrilled for the development, "Today, we establish the 76ers Fieldhouse as a premier destination for great basketball development, while also providing valuable resources to this area's youth. As a resident of Delaware, it's incredible to see the growth of a community when civic leaders commit to positive change. We are so excited to follow their lead and truly engage in a meaningful and impactful way."
The Buccini/Pollin Group (BPG) and BPGS Construction (BPGS) will manage the development and construction of the facility designed by Rossetti Architects, which sits at the foot of the new Christina River Bridge that will ultimately connect both banks of the Christina Riverfront. Once completed, the facility will be managed by BPG|Sports, our new operating affiliate that specializes in sports facility management.
"The Fieldhouse will be a catalyst for opportunity within the City of Wilmington, providing thousands of underserved youth with new sports programming. The programs offered within this state-of-the-art facility will make a life-long impact on each child that steps foot through the doors," explained Rob Buccini.
The facility will serve four over-arching purposes, a major family-friendly attraction, home of the 76ers NBA G League affiliate team, the Blue Coats attracting 2,500 fans per game, a youth sports complex designed to support the inner-city children of Wilmington with opportunities to engage and thrive, TITUS Sports Academy athletic development services and advanced Sports Medicine Capabilities through Nemours/Alfred I. duPont Hospital for Children part of the Nemours Children's Health System.
Steve Cavalier, General Manager for BPG|Sports and the 76ers Fieldhouse is also the Founder of Future Soccer Stars Foundation (FSS), a non-profit designed to provide free opportunities to local youth to play and learn valuable life skills through soccer. Steve has already leveraged his strong community ties to ensure the facility is a resource for children within the local neighborhoods. Eight non-profits are already slated to utilize the facility for programing including Delaware Football Club (DEFC), Delaware Rush Soccer Club, 76ers / BGCDE City Youth Basketball League, Summer Collab/ Tylers Camps, FSS, Champions Program, Strive Leadership, and Boys and Girls Club.
The Fieldhouse will support youth athletic training sessions as well as youth basketball, soccer, volleyball, lacrosse, football and other sport competitions with three full-sized, professional basketball courts, two indoor turf soccer fields, a world-class sports performance and athletic training area, as well as retail and office space.
Once completed, BPG|Sports is looking forward to providing 80-100 new part-time job opportunities for individuals looking to work in a dynamic community centered environment.
2018-19 Delaware Blue Coats Founding Season Ticket Memberships are on sale now, starting at $199 per seat for the whole season. Fans can Join the Revolution at SIXERS.COM/BLUECOATS or by calling (302) 504-7587 or emailing BlueCoatsTickets@76ers.com.
Follow the 76ers Fieldhouse on Facebook, Instagram and Twitter.
For information on field use reservations, events, and other ways to support the 76ers Fieldhouse please visit www.76ersfieldhouse.com.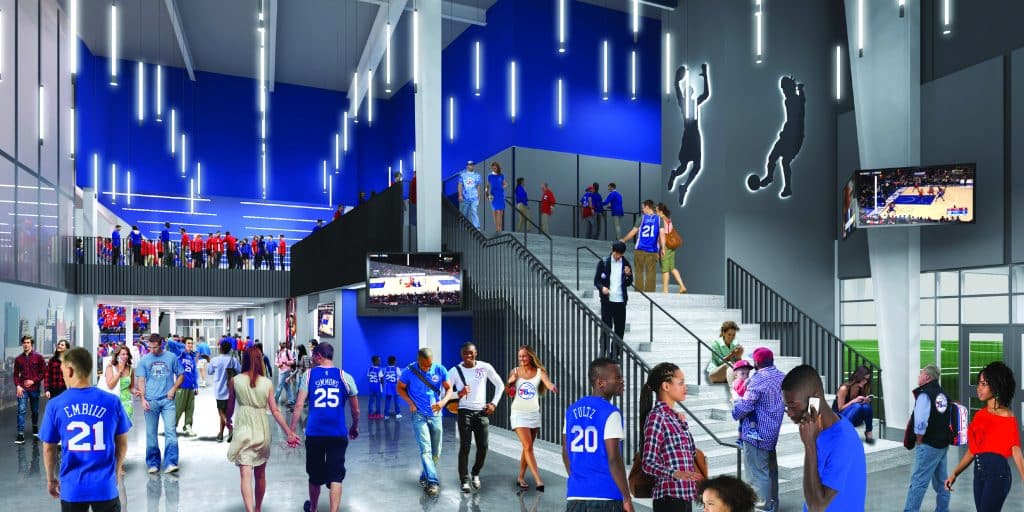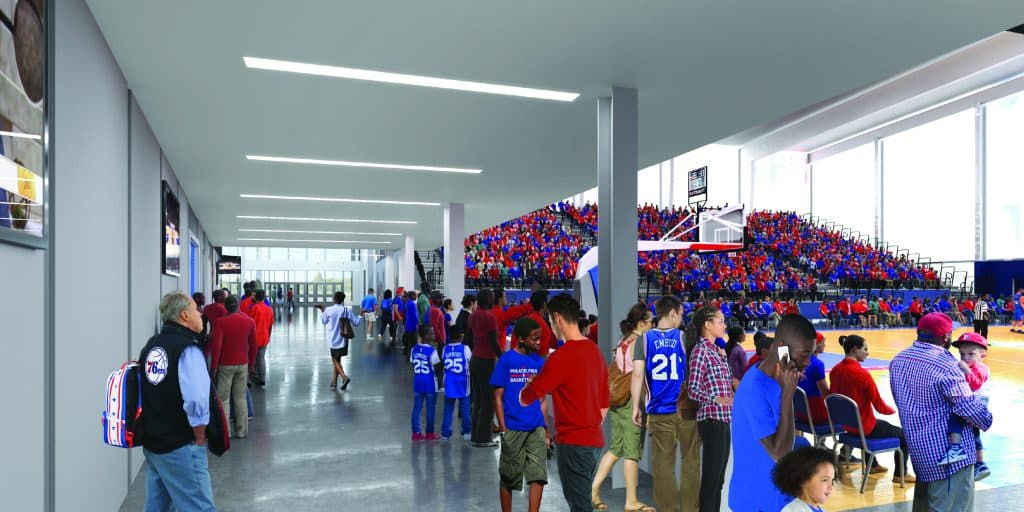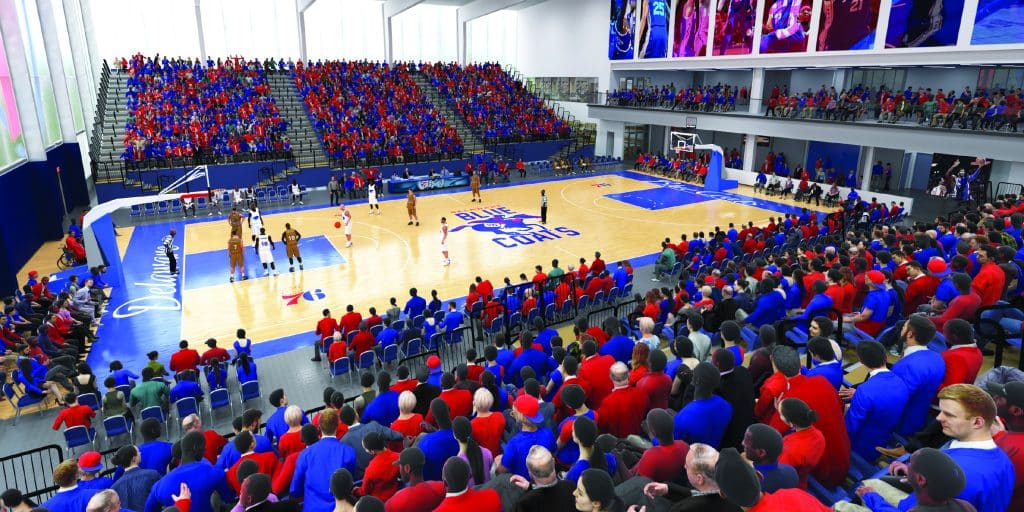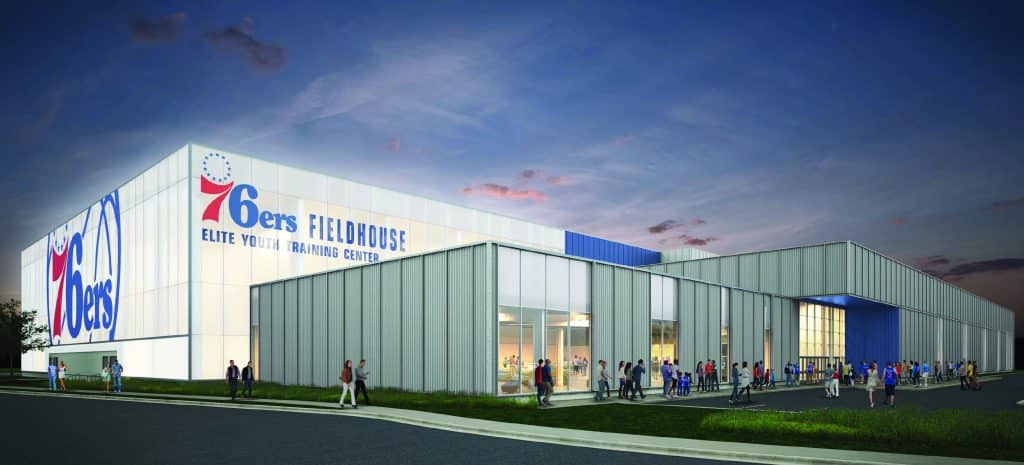 ABOUT BPG|SPORTS
BPG|SPORTS is a dynamic sports management and investment company. Our team, in collaboration with The Buccini/Pollin Group, provides a comprehensive set of resources to provide best in class sports experiences. We have industry-leading expertise in operations, facility management, marketing and finance, as well as construction and development. At BPG|SPORTS, our mission is clear:  We help build communities, promote health and encourage sportsmanship through our world-class sports facilities.
BPG|SPORTS has a proven track record.  From our development efforts for the Philadelphia Union's Talen Energy Stadium to our ownership and management of the 76ers Fieldhouse, BPG|SPORTS implements innovative programing and sets the standard in the sports industry.
For more information please visit us at bpgroup.net or call us at 610-996-0425.
ABOUT THE BUCCINI/POLLIN GROUP:  
Celebrating their 25th anniversary, The Buccini/Pollin Group, Inc. (BPG) is a privately held, integrated real estate acquisition, development and management company with offices in Washington DC, Wilmington Delaware, Philadelphia, and Baltimore. Buccini/Pollin has developed and acquired hotel, office, residential, retail, and parking properties throughout the United States.
Buccini/Pollin has acquired, developed and owns real estate assets having a value in excess of $4.0 billion, including over 40 hotels, 6 million square feet of office and retail space, 10 major residential communities, and multiple entertainment venues, including Talen Energy Stadium, home of the Philadelphia Union Major League Soccer team.
The principals of Buccini/Pollin, along with PM Hotel Group (hotel operating company), BPG Real Estate Services, LLC (office property management and leasing), ResideBPG (residential property management and leasing), and BPGS Construction, LLC (construction management), oversee all aspects of project acquisition, finance, development, construction, leasing, operations, and disposition for its portfolio properties. The Buccini/Pollin Group has over 3,500 employees in 12 states. For more information, please visit www.bpgroup.net.