The Buccini/Pollin Group and affiliates ResideBPG, BPG|SPORTS held a drive to collect the much-needed items.
WILMINGTON, DE–Wilmington-based developer, The Buccini/Pollin Group, Inc.(BPG), along with ResideBPG, BPG|SPORTS, surprised teachers, faculty and staff of Christina School District with 13 boxes of donated school supplies on November 13th, 2018. The supplies were generously donated by residents of ResideBPG communities, BPG Associates and associates that work within the Brandywine Building along with the BPG|SPORTS team.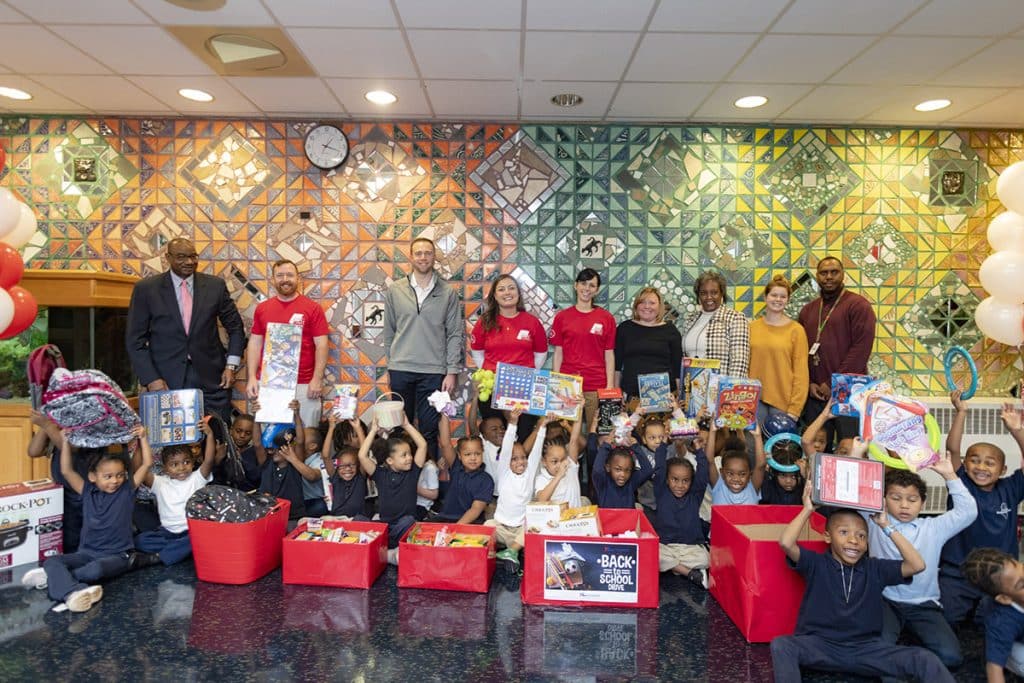 The supplies were donated to Stubbs Elementary School and Elbert-Palmer Elementary School. Both schools serve children from kindergarten to 5th grade. BPG held a month-long drive to collect much-needed items including art supplies, uniforms, games for indoor recess days and teacher supplies.
Claire Nester, Residential Marketing Specialist, coordinated the drive. "BPG takes pride in supporting our neighbors within the community. We teamed up with the Christina School District to identify the needs within the local schools and then hand-delivered the items during a special Christina Surprise Squad visit, complete with a parade of balloons. It was incredibly touching to see the reactions of the students and teachers first-hand. They were very gracious and appreciative of the donations."
"We are so grateful for BPG's kind support of Christina schools," said Richard L. Gregg, Superintendent of the Christina School District. "Our students and staff were truly touched by BPG's surprise visit to their schools and by the generosity shown by everyone in the BPG community who so kindly donated items to help our young learners reach their highest potential this year."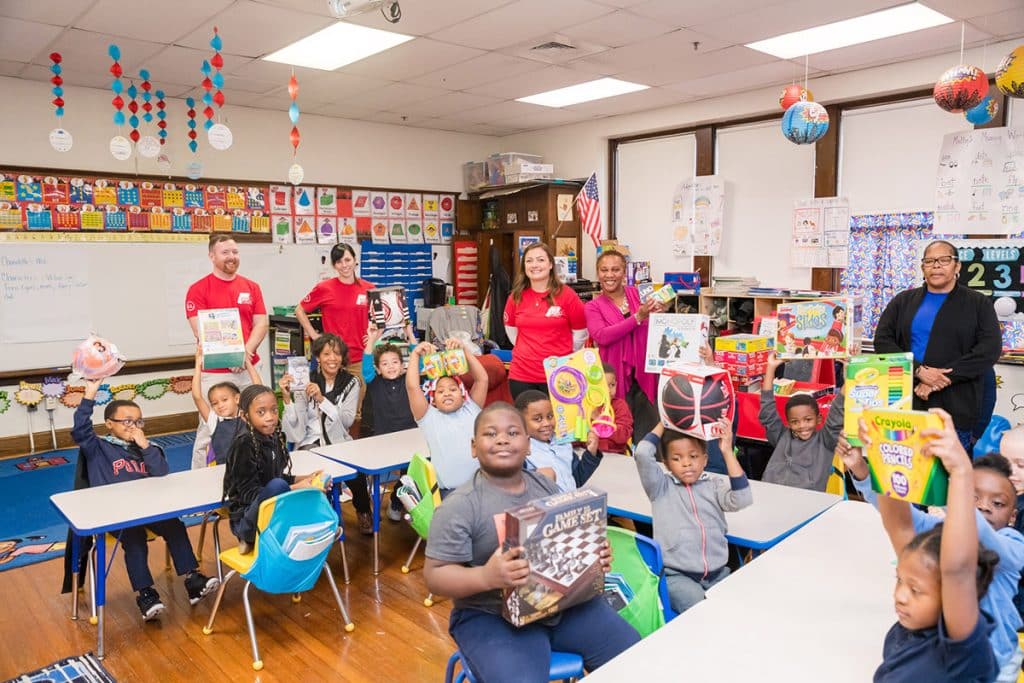 The idea for Christina Surprise Squads stemmed from surprising the school district's employees of the year with a visit from the superintendent with balloons, certificates and a personal invitation to a special Employee Recognition Awards Ceremony, all caught on video. The district plans to use the Surprise Squad theme for upcoming awards, employee recognition and other exciting announcements for students and staff around the district.
"This is exactly what I had hoped for when I thought of the idea for starting a Christina Surprise Squad," said Taylor Green, Public Information Officer and Manager of Communications for the Christina School District. "The reaction from students and staff was priceless!"
About ResideBPG
BPG Residential Services, LLC (ResideBPG) is the premier full service residential management and leasing company formed to compliment Buccini/Pollin's residential investment objectives. The company currently operates a portfolio of 3 residential brands comprised of 8 apartment communities, 1,000 unfurnished apartments and 85 corporate furnished apartments. From high rise luxury overlooking the Christina River, to urban walk-ups along Market Street,to LuxiaSuites, the premier corporate furnished community in Northern Delaware, ResideBPG has an extensive variety of communities and an unyielding commitment to quality.
The Buccini/Pollin has also completed 373 "for sale" properties along the riverfront in Wilmington, and currently has 4 additional residential development projects on the boards, totaling an additional 1,160 units. This includes both BPG and ResideBPG's debut into the Philadelphia residential market with the development of an apartment community at the site of the former The National restaurant supply company in the heart of Old City. For more information, visit www.residebpg.com.
About BPG|SPORTS
BPG|SPORTS is a dynamic sports management and investment company. Our team, in collaboration with The Buccini/Pollin Group, provides a comprehensive set of resources to provide best in class sports experiences. We have industry leading expertise in operations, facility management, marketing and finance, as well as construction and development. At BPG|SPORTS, our mission is clear: We help build communities, promote health and encourage sportsmanship through our world class sports facilities.
BPG|SPORTS has a proven track record. From our development efforts for the Philadelphia Union's Talen Energy Stadium to our ownership and management of the 76ers Fieldhouse, BPG|SPORTS implements innovative programing and sets the standard in the sports industry.
For more information please visit us at 76ersfieldhouse.com or call us at 610-996-0425.
About The Buccini/Pollin Group
Celebrating their 25th anniversary, The Buccini/Pollin Group, Inc. (Buccini/Pollin) is a privately held, integrated real estate acquisition, development and management company with offices in Washington DC, Wilmington, Philadelphia, and Baltimore. Buccini/Pollin has developed and acquired hotel, office, residential, retail, and parking properties throughout the United States. Buccini/Pollin has acquired, developed and owns real estate assets having a value in excess of $4.0 billion, including over 40 hotels, 6 million square feet of office and retail space, 10 major residential communities and multiple entertainment venues, such as Talen Energy Stadium, home of the Philadelphia Union Major League Soccer team. The principals of Buccini/Pollin, along with PM Hotel Group (hotel operating company), BPG Real Estate Services (office property management and leasing), ResideBPG (residential property management and leasing), BPGS Construction (construction management), oversee all aspects of project acquisition, finance, development, construction, leasing, operations, and disposition for its portfolio properties. The Buccini/Pollin Group has over 3,500 employees in 12 states. For more information, please visit www.bpgroup.net